I really need a holiday, but it's just not feasible with what we've got on at work, so weekends tend to take a pretty laid back pace right now. Today, I woke about 9.30, had some breakfast, watched some dismal Sunday morning TV, then grabbed some lunch.
Read the rest of this post »

February 20, 2011 ·

admin ·

No Comments


Posted in: General
Here we go again. That great eager anticipation of the long awaited call from the allotment society.
Read the rest of this post »

February 3, 2011 ·

admin ·

2 Comments


Tags: bigger plot · Posted in: General, Polytunnel, Solar Energy
The plots on our site are pretty large. So large that, over the years, the society has split some into 3. The resulting 1/3rd plots are still pretty big compared to most sites. My current plot is 1/3 of a full plot, at the end of a row where the other two plots remain vacant.
Read the rest of this post »

January 29, 2011 ·

admin ·

No Comments


Tags: bigger plot · Posted in: General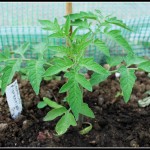 At work, we get a lot of stock delivered from all around the continent on pallets, which we struggle to get rid of. A couple of local old boys come round and collect the standard Euro sized ones, which they presumably sell on. Most however are odd sizes, which neither of them ever seem to want to take. So I've used a fair few on the plot. Chatting to one of the ladies on the plot, she asked where they'd come from, so I offered her as many as she wanted. She had a use in mind for them so, one evening after work, I loaded the Land Rover up with a load and dropped them at her plot for her.
Read the rest of this post »

May 26, 2010 ·

admin ·

One Comment


Tags: pallets, swede, sweet potato, tomatoes · Posted in: General, Vegetables
I hate nature sometimes. Just when you think you're at one with it, it turns around and bites (or should that be stings?) you on the arse.
Read the rest of this post »

May 18, 2010 ·

admin ·

One Comment


Tags: bees · Posted in: Pests, Wildlife
We're fairly lucky here in the Cambridgeshire Fens to benefit from moderately warm conditions. We're just far enough inland to avoid the worst of the northerly winds coming in off the north sea, which usually means that, by the first few weeks of May, the last of the frosts have gone.
Read the rest of this post »

May 15, 2010 ·

admin ·

No Comments


Tags: courgette, melon, tomatoes · Posted in: Weather
Growing sweet potatoes is proving to be an interesting experience. I started two tubers off in water way back in February. They took an age to show any sign of life and, initially, just one seemed to be growing. Eventually, the second one started to show shoots. Then, a couple of weeks ago, the one which had appeared reluctant to start with rocketed away, sprouting a mass of roots and some lovely healthy shoots.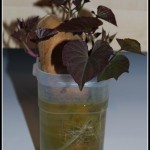 Read the rest of this post »

April 30, 2010 ·

admin ·

No Comments


Tags: sweet potato · Posted in: Vegetables
Despite the fact that erecting the shed was one of the first things I did on the plot, it's been neglected since, and in need of a floor so I could build upwards with shelving, etc. We recently had some heavy duty pallets delivered at work, with heavy ply covers, rather than the normal softwood slats. I put them aside, only to find that someone else in the office, who has also just got an allotment, beat me to it and took them home the other day.
Read the rest of this post »

April 25, 2010 ·

admin ·

One Comment


Tags: fly tipping, pallets, rain, raised beds, Shed · Posted in: Construction, Shed
Boring day at work today, improved only by the weather, which is fantastically sunny at the moment. Half of me wishes it'd carry on like this forever. The other half wishes it'd chuck it down overnight, as it's getting so dry on the allotment, I daren't turn a spade in anger for fear of losing what little moisture's left in the soil.

April 23, 2010 ·

admin ·

No Comments


Tags: land · Posted in: General
Came home from work this evening and bottled "April Fool", the cider I started on the 1st of April.

April 21, 2010 ·

admin ·

No Comments


Tags: cider · Posted in: Home Brewing