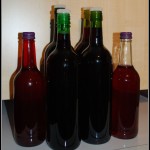 Just over a week ago, my blackcurrant wine stopped fermenting, so I bunged a Campden tablet in and left it to settle. Checked this evening and, having racked it off a few days ago, it seems to be sediment free, so I've bottled it this evening. Read the rest of this post »

April 20, 2010 ·

admin ·

No Comments


Tags: cider, ribena, wine · Posted in: Home Brewing
Sunday afternoon, whilst down on the plot, I made a new friend. Whilst digging a bed, I got buzzed by a female blackbird. I'm not sure whether she actually brushed my head with her wings, or whether it was the down draught from them that just ruffled my hair. Either way, it was a serious bit of precision flying.
Read the rest of this post »

April 13, 2010 ·

admin ·

No Comments


Tags: blackbird · Posted in: Wildlife
How does nature know when spring has finally arrived?
Clearly it does, as the lanes around here are suddenly awash with huge swathes of blossom.
Read the rest of this post »

April 11, 2010 ·

admin ·

No Comments


Tags: manure, onions, raised bed · Posted in: Construction, General, Vegetables
There's no other way to describe today's weather than glorious.
I'm the director of the management company at the flats where I live, so tend to do a bit of work keeping the grounds and driveway tidy. We've got an annoying earth bank at the back of the car park which, before I took on my current role, was a huge eyesore. I've got some lavender and lobelia germinating at home to plant along it once the cold weather's gone for good so, in the meantime, I'm having to pull endless weeds out of it to try and keep it tidy.
Read the rest of this post »

April 10, 2010 ·

admin ·

No Comments


Tags: asparagus, cauliflower, mice, peas, runner beans, sunshine · Posted in: Pests, Polytunnel, Vegetables, Wildlife
So much has changed since I first took on the plot. Not just with the land itself, but also within me.
Over the weekend, I've finished knocking the plot into shape and now more than 3/4s is all ready for growing. I'd have done the last bit but, with the whole plot laid down to beds and a 3 season rotation plan (as I'm not growing "normal" potatoes), I want to do something different with the last 1/4, putting in some raised beds and mixing it up with some flowers and a bit of space for nature.

April 5, 2010 ·

admin ·

No Comments


Tags: full plot · Posted in: General, Shed, Vegetables
I'm beginning to make some major progress with the plot. Yesterday turned out to be a washout, but today warmed up nicely after lunch and the late afternoon into evening was beautifully warm and thankfully still after the recent high winds.
Now that things are warming up again, I'm starting to plant in earnest.
Read the rest of this post »

April 3, 2010 ·

admin ·

No Comments


Tags: bean poles, beetroot, leeks, spring onions · Posted in: Construction, Pests, Seeds, Vegetables
I'm really struggling at the moment to stick to my own pledge not to drink anything alcoholic unless I've brewed it myself. After a long hard day on the plot, coming home aching all over and slightly dehydrated, nothing would be better than a cool bottle of cider or nice glass of red. It took all the determination I could summon this evening to dissuade myself from stopping off at the corner shop on the way home.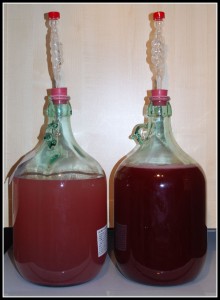 April 3, 2010 ·

admin ·

No Comments


Tags: cider, wine · Posted in: Home Brewing
The way in which plants germinate never ceases to amaze me. Tomatoes spring up virtually overnight. The melon seedlings I've got growing on the windowsill launched into life at a staggering pace, then slowed to a crawl the second their first leaves had developed.
Read the rest of this post »

April 2, 2010 ·

admin ·

No Comments


Tags: sweet potato · Posted in: Seeds, Vegetables
4 days hard graft last weekend and another two this one has got my plot starting to look like it's on the way to being ready for planting.
Read the rest of this post »

March 28, 2010 ·

admin ·

No Comments


Tags: Polytunnel, water butt · Posted in: Construction, General
My enthusiasm for home growing and other stuff of a similar ilk seems to be spreading in the office. One of the lads has veg growing on a small scale at home, so I'm encouraging him to do a bit more. A couple of days ago, I got to talking about home brewing and have managed to spur another of the lads into starting some lager off at home. In turn, he motivated me to get off my backside to start some wine off at home. It's been a fair few years since I last made any, so hopefully I've not lost the ability to produce something drinkable.
Read the rest of this post »

March 25, 2010 ·

admin ·

No Comments


Tags: blackcurrant, ribena, wine · Posted in: Home Brewing